*This post may contain affiliate links, which means I may receive a small commission, at no cost to you, if you make a purchase through a link. See my full disclosure.
When it comes to decorating, the living room is one of the most important places to focus on. After all, you typically spend most of your time in this room, whether that's relaxing on the couch as you binge a show on Netflix, entertaining guests or having a family game night. For some, the living room is the heart of the home. There are multiple components that come into creating the perfect living room.
Taking front and center stage is the coffee table. Arguably one of the most important pieces of furniture in the living room, it's best to find a table that complements your decor. Glass coffee tables in particular can be quite versatile with their modern and sleek designs. If you're searching for glass coffee tables specifically, here is a list of 30 stunning options.
Stunning Glass Coffee Table
With its chic and modern style, this stunning glass coffee table from Mercer41 makes a beautiful centerpiece for your living room. Plus, you have the added lower shelf which allows for ample storage and functionality.
Glass Sled Coffee Table
For a minimalist aesthetic, this chic and simple glass sled coffee table hits all the marks.
Rustic Glass Coffee Table
Add a contemporary touch to your living room with this trendy glass coffee table. What adds to this table's overall wow factor is the floating wood shelf which gives your living room a modern look.
Oceanic Glass Coffee Table
A beautiful piece of furniture that will become the focal point of your living room. Exquisitely crafted, Tommy Bahama went above and beyond with this abstract coffee table that emulates a reef-like design.
Rectangular Glass Coffee Table
Give your living room a fresh makeover with this lovely rectangular glass coffee table that fits perfectly in small spaces.
Abstract Glass Coffee Table
Bold and beautiful, this trendy statement piece from Hokku Designs will change the overall feel of your living room with its stylish design.
Whimsical Glass Coffee Table
Enchant your guests with this whimsical glass coffee table. With its intricately designed brass branches and magical design, this is sure to be a conversation piece.
All Glass Coffee Table
This table makes a great accent piece for your living room and will give your home an elegant and contemporary ambiance.
Geometric Coffee Table
Chic and elegant, this stylish glass coffee table from Silver Orchid is framed with a fun geometric design that will wow your guests.
Classic Glass Table
If you want an elegant and tasteful glass coffee table that will make a statement, this piece from Interlude is the table for you.
Modern Coffee Table
The perfect coffee break coffee table. If you're looking for a sleek and contemporary coffee table that allows you to show off your beautiful decor, this may be your dream coffee table.
Sleek Glass Coffee Table
For a sleek and stunning statement piece, this glass coffee table from Latitude Run will give your home a chic and luxurious feel.
Glass Coffee Table
Sleek and contemporary, this beautiful modern glass coffee table from Interlude Home is perfect for anyone searching for a sophisticated and polished piece that will give their home an elegant aesthetic.
Stylish Coffee Table
This alternating layered wood coffee table from Safavieh features a stunning glass accent and a unique design that will give your home an artsy and contemporary vibe.
Simple Glass Coffee Table
Showcase fresh flowers on this beautiful glass coffee table from Christopher Knight that offers plenty of storage with its bottom shelf.
3-Layered Glass Coffee Table
With ample storage space, this spacious 3-layered glass coffee table offers plenty of room to show off your decor and give your home a glamorous look.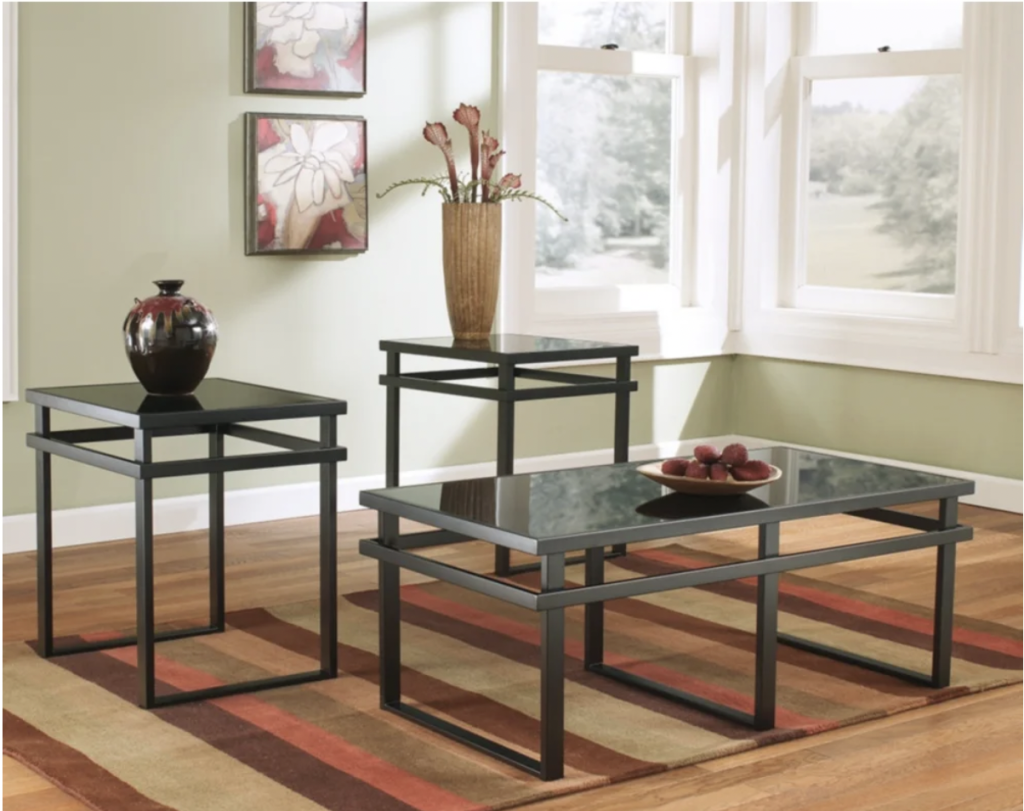 Black Glass Coffee Table
Elevate your living room decor with this ultra-sleek opaque black glass coffee table, a Signature Design by Ashley. Ideal for displaying plants, books and centerpieces, this is the statement piece you need in your home.
Contemporary Glass Coffee Table
Sophisticated, yet simple glass coffee tables can transform your living room and give it a modern ambiance. If that's your plan, you should take a closer look at this stunning table from Furniture of America.
Circular Glass Coffee Table
For a sleek and contemporary look, this stunning piece from Carbon Loft offers all of that and more. With two shelves, there is more than enough space for storing books, magazines, plants and statement pieces.