*This post may contain affiliate links, which means I may receive a small commission, at no cost to you, if you make a purchase through a link. See my full disclosure.
Hey everyone, welcome to my resources page! Below you will find a list of the best blogging tools and products that have helped my blog grow and flourish.
These are the best blogging tools and resources that I use and highly recommend as they help to keep your site up and running, boost traffic, and make you money.
Since I love these tools and services so much, I decided to become an affiliate for a few of them, which means that if you click on one of my links, I may earn a small commission at no extra cost to you. I hope this helps you have success with your blog.
If you have any questions, I will gladly do my best to answer them in the comments unless you would prefer to ask through my contact page.
---
SiteGround: Best Blogging Tool For Hosting
Once you go SiteGround, you'll never switch.
Yes, it's that amazing.
After tirelessly researching hosting platforms, I went with SiteGround as it has a fantastic support team, top-notch security, and fast website performance, all musts for maintaining a site.
Without the three, you'll have a sluggish site that sends visitors running for the hills, a mountain of security issues, and zero help with problems that will ultimately arise.
You cannot go wrong with this investment.
Plus, with SiteGround's spectacularly generous discount, you can expect to save over $200 on the first three years upon registration.
For more information on SiteGround, check out this comparison post that looks over SiteGround and BlueHost.
If you plan to move forward with this amazing hosting platform, I recommend looking at this guide that takes you through the setup process step-by-step.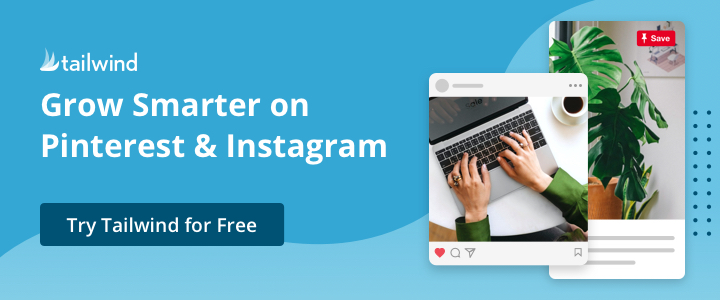 Tailwind: Best Blogging Tool For Social Media Assistance
If you plan to use Pinterest or Instagram to promote your blog, Tailwind is an essential tool you will need in your arsenal.
Tailwind is an automated scheduler tool that saves you time and money. Instead of wasting money on ads, you can join Tailwind Tribes, which are incredibly beneficial for new bloggers.
You post a pin to the Tribe, and your Tribemates can share it with their audience. Not only will that help expand your reach, but it can also increase blog traffic and overall revenue.
Over the years, I have garnered a 5.5 million reach since joining Tailwind Tribes, with many pins going viral.
The results are endless when you're using Tailwind.
For more information on Tailwind and how it has helped me grow my blog, I'll refer you to my post here.
When you join, you will get your first 100 pins free. For a free month of Tailwind PLUS, use this link here. Not only will your first 100 pins be free, but you will also get a $15 credit that will go towards your first payment.
Grammarly: Best Blogging Tool For Writing
As one of the best blogging tools for writing, I cannot recommend Grammarly enough.
Grammarly is an online proofreading tool that can help you avoid pesky grammatical mistakes and spelling errors, further improving the overall quality of your writing.
Since I started using it, I can trust that my writing is mistake-free and appears to be high-quality, a critical component when building a loyal following.
Grammarly also offers a plagiarism checker, a tool that can be useful for bloggers who perform a lot of research for their posts.
I recommend trying it out if you have yet to do so, but if you would like more information on Grammarly, I suggest checking out my post Is Grammarly Worth It? here.
SEMrush is a powerful all-in-one SEO platform that provides keyword analysis, rank tracker, backlink analysis, and website audit.
Ranking higher on Google should be a #1 priority. After all, when it comes to increasing organic traffic, nothing is more important than Google rankings.
Say you publish a round-up of the best gifts for cat lovers and it ends up on the sixth page of Google. Now think about how far you scroll through Google pages before you click on an article. Compared to those results on the first page, the clicks your post will receive will be few and far between, making those coveted first page spots all the more desirable.
For that reason, SEMrush is an invaluable tool as it improves rankings, increases organic traffic, and optimizes articles, making it one of the best blogging tools for SEO.
My all-time favorite aspect of SEMrush would have to be keyword analysis, as it provides an in-depth report of keywords that I have a shot at ranking for on Google.
In addition to that, it shows backlinks and offers an organic research analysis that reveals your ranking keywords for different countries.
Are you ready to take your SEO game to the next level? Don't miss out on this 30-day free trial provided by SEMrush when you click through my link.
Cloudflare: Best Blogging Tool For Site Speed
If your website is loading at a snail's pace, you might want to look into a global content delivery network (CDN). Not only do CDNs help speed up your loading time, but they can also help a site's overall functionality.
Cloudflare is a popular CDN that boasts lightning-fast load times, top-notch security, and increased performance. Luckily, they have a free version for anyone looking to try it out without investing any money into their paid plans.
If you do decide to upgrade to the Pro Plan, you can expect to get numerous added features, including improved image optimization, security, and support, for a relatively reasonable price of $20/month.
For anyone who hates setting up new tools, you can rest easy knowing that the setup is relatively painless. To activate Cloudflare, all you have to do is update your DNS nameservers.
As one of the best blogging tools, I cannot recommend Cloudflare enough.
Site speed is a critical component to the success of a website, so make sure to prioritize that if you notice your site lagging.
For a more in-depth look at Cloudflare's features, check here.
For improved site speed, WP Rocket is a no-brainer, especially if you are on WordPress.
WP Rocket is a popular WordPress caching plugin that boosts site speed, optimizes Core Web Vitals, and improves PageSpeed score.
Features include Gzip compression, page caching, file optimization, LazyLoad, WebP images, cache preloading, and straightforward integrations with other add-ons like Cloudflare and Sucuri.
Configuration takes less than three minutes, making it simple, easy, and incredibly convenient for anyone who is not tech-savvy and sees setups as migraine-inducers.
WP Rocket takes care of the hard part so you can have a faster, better-performing site in minutes at a reasonable price of $49/year.
Canva: Best Blogging Tool For Graphics
Canva is a fantastic tool that helps me create beautiful pins, printables, and banners.
Since Pinterest is such a picture-focused platform, you will need to create colorful and image-rich pins that are pinnable. In other words, Canva can help you create colorful pins with their large inventory of photos, elements, and fonts.
You can also use Unsplash to find more gorgeous stock pictures that are free if you don't want to spend money on images.
As one of the best blogging tools for social media graphics, I recommend it to all bloggers looking for a free design platform.
Start a Blog: Best Blogging Resource For Beginners
If you have yet to start a blog, check out my extensive step-by-step guide that walks you through all the critical steps for starting your blog.
There you can find my advice and tips on choosing your niche, picking your domain name, finding a host, monetizing your blog, and so much more!
If you plan to monetize your blog with affiliate marketing, you will need to join a few affiliate networks.
I have put together a simple and straightforward list of affiliates where you can easily find which affiliate programs/networks are best for you (depending on your niche).
I have also included the top affiliate networks to join that is home to many successful affiliate programs.
If you are unsure of what affiliate marketing is or how to be successful with it, I have included a section that goes over that.
Best Affiliate Networks to Join
blogging tools blogging tools blogging tools blogging tools blogging tools blogging tools blogging tools blogging tools blogging tools blogging tools blogging tools blogging tools blogging tools blogging tools blogging tools blogging tools blogging tools blogging tools blogging tools blogging tools blogging tools blogging tools blogging tools blogging tools