I knew about Goodreads for many years before I created an account and I'd typically use it to search for vampire books (mostly); that was all the rage for 12-year-olds back in 2012. Twilight was actually the book that got me into reading. It wasn't until 2017 when my friend told me that I should get Goodreads that I finally took the jump, downloaded the app and set up the account. Honestly, I don't know where I would be if my friend never told me that. Well, probably still reading, I just would have no record of all the books I've read.
Whether you're an avid reader or an 'on-the-side' reader, everyone can benefit from having a Goodreads account. It helps you track your reading process and allows you the opportunity to talk with others about books you may be especially passionate about. However, the reason behind my commitment to Goodreads is the fact that it has lead me to read so many books I would have never found if not for Goodreads. It's quite amazing really.
Anyway, if you're not familiar with everything Goodreads offers or you're just confused about something, I hope I can clear it all up. Without further ado, I present you the guide to getting the most out of Goodreads!
Your One, True Home
What is the home section good for? Well, a few different things.
Recommendations: It gives recommendations based off past books you have read along with recommendations based off the genres you like. These can be a hit or miss.
Trending Books: Each week, the trending books of each genre will pop up in your feed which is awesome since they usually have an interesting premise. I usually end up adding them to my to-be-read (TBR) list if they stand out to me. It's also great for anyone who likes to know what's popular at that moment which may also be a helpful feature for book clubs.
New Releases: If there's any new releases in your favorite genre(s), then those will show up as well. This is a helpful feature for anyone really who isn't up-to-date on all the upcoming releases.
Updates From Friends/People You Follow: If any friends/people you follow write a review/like someone else's review, make a comment or complete a book, then it will show up in your feed. This can be nice for discovering new books or maybe interacting by commenting on their review.
Lists Are Your BFF's
Lists are the holy grail of Goodreads. They are, hands down, my favorite feature when I want to find a specific type of book. Let me provide an example for you.
Say you just finish an awesome book, take It Ends With Us by Colleen Hoover for instance, and you're looking for a similar book. All you do is scroll down to the bottom of the screen (make sure you're on that books' page) and you will find other lists featuring that book. Some of the lists that feature It Ends With Us (about 40 of them) include 'Best Ugly Cry Books' and 'You're Crazy if You Haven't Read This'. Furthermore, you should have no trouble with finding your next Friday night book date.
Become Active With Other Members By Joining Groups
If you want to be active in the Goodreads community and discuss books with others, then you should definitely join some groups. I, myself, have yet to join any simply because I'm not a big fan of the way they're set up, but that's just me being picky. Actually, you know what, I think I'll join one just to prove myself wrong. I might actually like it, so we shall see.
If you're still not bought on the idea, let me give you an idea of how broad or specific groups can be:
Anyone Who Likes Books
The Perks of Being A Book Addict
EVERYONE Has Read This But Me – The Catch-Up Book Club
Nothing But Reading Challenges
Challenge Corner
For Fantasy Lovers
My Vampire Book Obsession
Fantasy Discussion Group
Nalini Singh Fans
Paranormal Romance and Urban Fantasy Addicts
Fantasy Buddy Reads
Vampires, Weres and Fae!
For The Romance Reader
Gotta Have Romance with a Kick
MM Romance and Gay Fiction
Romance Reading Challenges
Romance Retreat
As you can see, these are only a few and there a lot more you can choose from. Also, to join groups, you go to your profile page and scroll to the bottom where you should see a box that says 'Search For Groups To Join'.
Enter As Many Giveaways As You Want & Be Notified
What is great about Goodreads is how easy it is to enter giveaway contests. Whenever a contest starts for a book, you'll have the opportunity to win a copy. As long as the book is on your TBR shelf, you should receive a notification via email about the contest and boom! You click the button, enter the giveaway and cross your fingers (and hope this will be your lucky month).
I have yet to win a giveaway, but I still have hope that, one day, I'll get lucky.
Also, I don't think there's a way to access the giveaway page through the app. Furthermore, if you just want to browse the giveaways, you'll have to search 'goodreads giveaways' (via google or whichever search engine you use).
Test Yourself With A Reading Challenge
Another nice feature is the reading challenge option. If you want, you can set a goal for the number of books you want to have read by the end of the year.
I always love doing this because I like seeing my progression and whether I'm behind schedule or not. The day when you see you're 30 books behind schedule is the day you accept that you might not reach your goal. Yes, that was me when I thought 250 books was a realistic goal. I ended up cheating and changing it to 200 because I wanted to get the congratulations message and little confetti. Priorities people.
Spice Up Your Own Bookshelves
If you're the type of person who enjoys categorizing their books, then you'll fall in love with bookshelves. After you finish a book, you can add it to your shelves by clicking on the arrow that is in the box that says 'Read' or 'Want to Read'. If you want to add more shelves, just create a new shelf.
If you're not sure what shelves to add, you can check out what I have here. For instance, many people choose to have shelves based on ratings (one star to five stars) or maybe a shelf for books that made you cry or laugh. It depends on what you want to do.
Kindle & Goodreads Work In Harmony
If you read using the Kindle/Amazon Prime and decide to link your Goodreads account to the Kindle, then your reading progress will be updated on Goodreads continuously. Moreover, you can also make highlights which you can choose to make public so other Goodreads members can see. You just might end up sparking a conversation.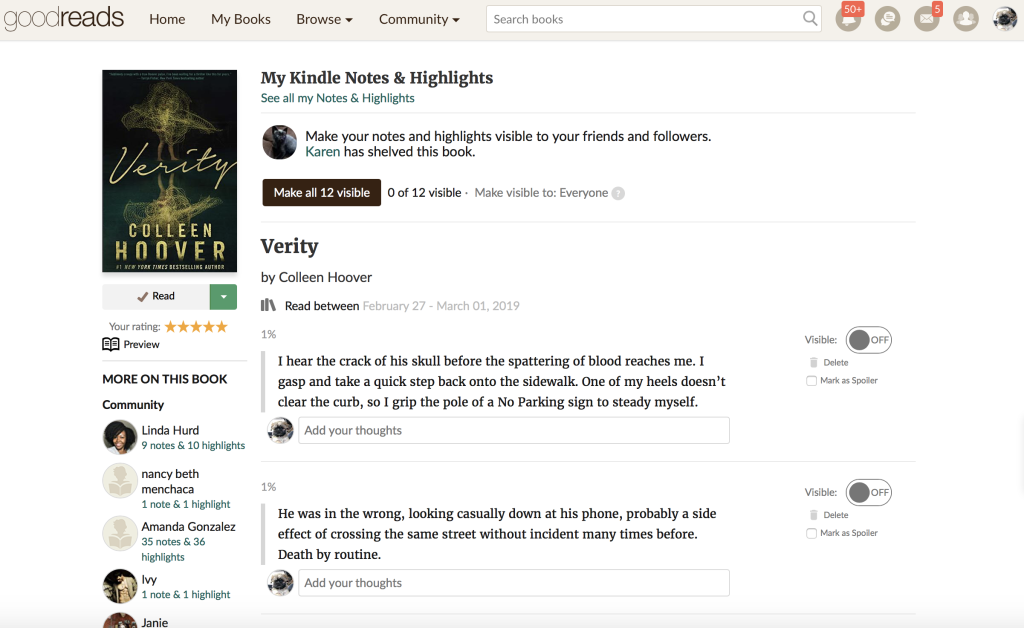 Find All Events Book-Related
You can find literary events near where you live by clicking on 'More' which will take you to the screen where you should see 'Events' right below 'Groups'. Once you click on that, it'll take you to the events section where you can type in your zip code. This will show you any events occurring that are nearby.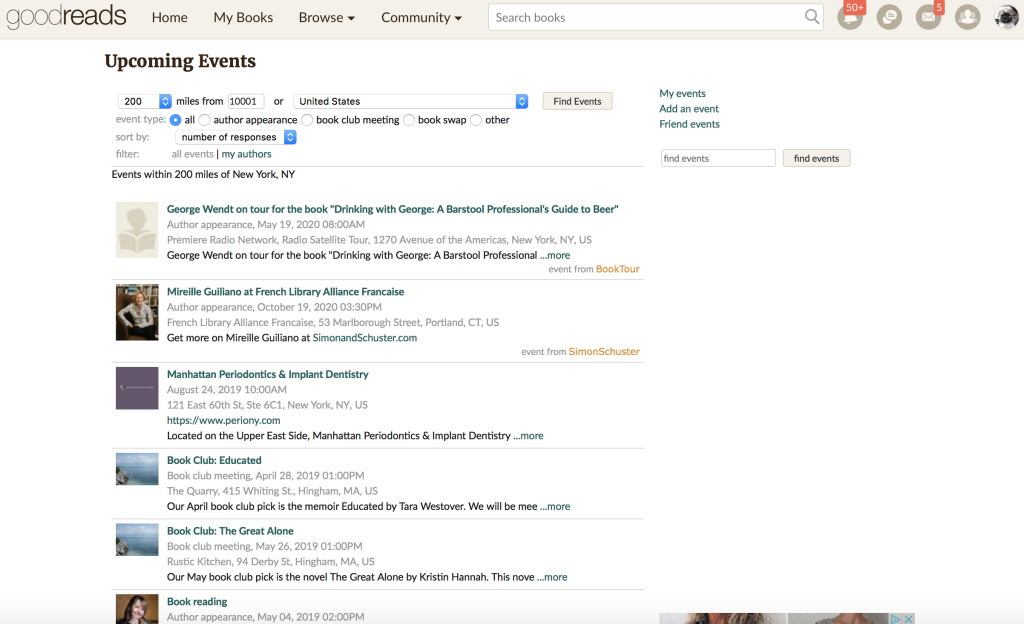 Final Thoughts
Overall, there's no reason not to have a Goodreads account. It's easy to sign up and it's even easier to navigate, so what are you waiting for?! There's just some books you'll have a hard time discovering without Goodreads.  
If you ever want to talk books, you can do so in the comments section or through Goodreads. I'm always down for that. Stay in touch and have a splendid night/day with your next SB (significant book). Yes, instead of a significant other, you can always have a significant book.
One day, I might look back at SB and cringe a bit, but what's life without some cringe.