Whether you're looking to hydrate your skin, brighten your appearance, clear up your complexion, smooth away fine lines and wrinkles, or minimize the look of your pores, these face masks will do all of that and more. Nothing is more luxurious feeling than applying a mask and lounging around watching Netflix or reading a book or cleaning (whatever you like to do in your spare time) as it dries. By the end, your skin will be feeling refreshed and ready to take on the world!
Best Overnight Mask For Dry Skin: Youth To The People Superberry Hydrate + Glow Dream Mask
This award-winning overnight mask is packed with antioxidants, vitamin C and anti-aging agents for a luxurious and powerful treatment that will leave your skin visibly brighter and refreshed in the morning.
Best Retexturizing Mask For Smooth Skin: Origins Original Skin™ Retexturizing Mask with Rose Clay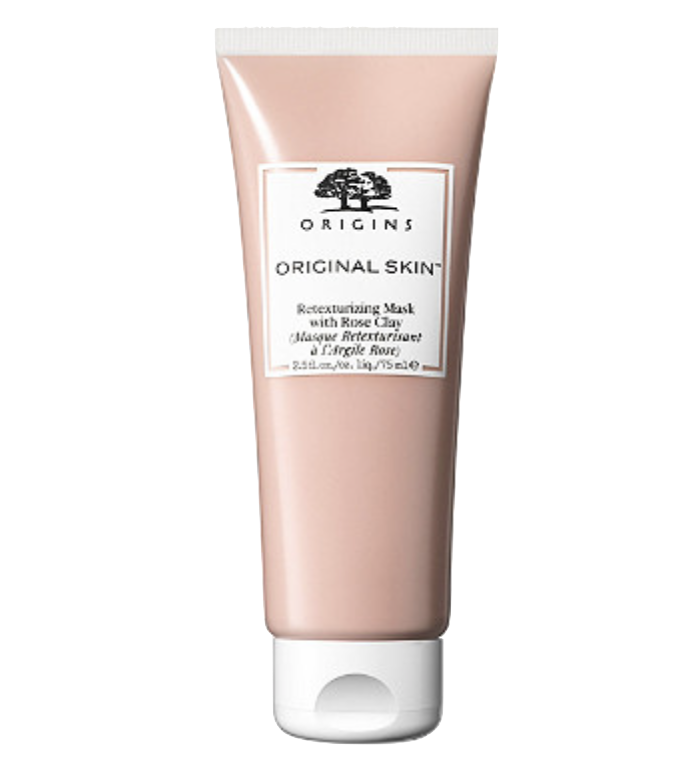 This bestselling retexturizing mask is great for anyone experiencing uneven skin texture. The rose clay will help to gently clean out your pores while refining the skin's texture for a noticeably smoother complexion.
Best Mask For Clogged Pores: OLEHENRIKSEN Cold Plunge Pore Mask
Looking for a mask that will instantly give you smaller-looking pores while delivering a revitalizing chill? OLEHENRIKSEN's Cold Pore Plunge Mask is the answer as it offers rapid results by reducing the look of pores and controlling oiliness.
Best Charcoal Mask For Acne And Blemishes: GLAMGLOW SUPERMUD Charcoal Instant Treatment Mask
This award-winning mask has been heralded by its users for its acne-fighting properties and is the perfect addition to your skincare regime if you're dealing with acne. If you're not in the mood to apply it all over your face, you can also use it as a spot treatment – the best of both worlds.
Best Anti-Aging Mask For Mature Skin: Drunk Elephant T.L.C. Sukari Babyfacial AHA + BHA Mask
If you're willing to splurge on this fan-favorite anti-aging facial that targets dark spots, wrinkles and pores, you won't be disappointed by the results. The AHA and BHA increases cell turnover, unclogs pores and reduces redness for a visibly smoother and more youthful-looking complexion.
Best Two-Step Sleeping Mask For Dry Skin: Fresh Rose Deep Hydration Sleeping Mask
Add a splash of hydration to your skin with this two-step sleeping mask from Fresh. First you slather on the gel that delivers a blast of hydration and then top it with the creamy mask which locks in the moisture for up to 24 hours. Advanced time-release technology ensures your skin is continuously moisturized throughout the night for a dewy and radiant appearance in the morning.
Best Pore Minimizing Mask For Oily Skin: Kiehl's Since 1851 Rare Earth Deep Pore Cleansing Mask
When it comes to oily skin, clay is the perfect ingredient for gaining control over the excess oils making Kiehl's bestselling pore minimizing face mask a great option for anyone dealing with oiliness and clogged pores.
Best Sulfur Mask For Acne: Peter Thomas Roth Therapeutic Sulfur Acne Treatment Mask
Sulfur is a great ingredient when it comes to clearing up present breakouts and preventing future blemishes and blackheads. For that reason, Peter Thomas Roth's sulfur mask is perfect for anyone who suffers from acne-prone skin.
Best K-Beauty Pore Clarifying Mask: Innisfree Super Volcanic Clusters Pore Clearing Clay Mask
For an affordable pore minimizing mask that will leave your skin feeling soft and rejuvenated afterwards, Innisfree's volcanic clusters mask is a great option. Made with finely ground volcanic clusters and lactic acid, the mask will absorb any excess oil and sweep away dead skin cells for a smoother complexion.
Best Mask For Dull Skin: Peter Thomas Roth Pumpkin Enzyme Mask Enzymatic Dermal Resurfacer
Pumpkin is a great source of vitamin C, A and E, making it a powerful agent in improving skin texture and reversing the signs of sun damage and wrinkles for a brighter and more youthful complexion. Peter Thomas Roth takes advantage of pumpkin's natural skincare benefits by incorporating it into their Pumpkin Enzyme Mask which serves as a three-in-one skin resurfacer that evens out skin texture and smooths away fine lines by exfoliating, peeling and polishing the skin.
Best Brightening Mask: Charlotte Tilbury Goddess Skin Clay Mask
Praised as one of the best brightening masks, this award-winning luxurious treatment is perfect for anyone looking for a mask that will give them an instant glow upon application.
Best Clay Mask For Oily, Acne-Prone Skin: LANCER Skincare Clarifying Detox Mask with Green Tea + 3% Sulfur
Treat yourself with this clarifying detox mask from Lancer Skincare. Whether you're concerned about redness, whiteheads, blackheads, or oiliness, this face mask has you covered and will be the perfect addition to your skincare routine.