*This post may contain affiliate links, which means I may receive a small commission, at no cost to you, if you make a purchase through a link. See my full disclosure.
Crack open the playbook because it's time to take a couple of pointers on which sports romances to read next. Whether you're obsessed with football, baseball, ice-skating, soccer, hockey, basketball, tennis, or boxing, this curated list has it all. So if you're searching for the best sports romances out there, be sure to add these knockouts to your list. The authors knocked it out of the park with these gems.
Vanessa Mazur is a glorified mother to the famous football legend nicknamed The Wall of Winnipeg. What was supposed to be a temporary position turned into a two-year game of running around like a chicken with its head cut off for a man who never even had the time to acknowledge her birthday. Knowing it's time she moves on, Van hands in her letter of resignation. Imagine her surprise when Aiden Graves shows up on her doorstep, asking that she come back.
As one of the best sports romance books out there, The Wall of Winnipeg needs to be on your TBR bookshelf. Plus, if you love slow burn romances, you'll fall in love with this hidden gem. After all, Mariana Zapata puts the slow in slow burn.
With each passing year, Jasmine Suko knows her chances of winning the coveted gold medal dwindle and when her skating partner ditches her, she's ready to hang up her skates. But when Jasmine is offered a once-in-a-lifetime chance to compete in an upcoming competition, she accepts. Even if that means partnering up with the a-hole golden boy she's fantasized of pushing off a cliff for the past decade. Except it's not that easy.
If they want this partnership to work, they'll need to try to reign in the insults and refrain from killing each other before their big day. But between their grueling schedule and forced trust exercises, the nemeses soon learn there is a fine line between love and hate.
Fans of Kulti and The Wall of Winnipeg will love From Lukov with Love. This slow burn sports romance will end with you gushing about Jasmine and Lukov and falling into a YouTube figure skating rabbit hole.
"What Texan comes to Paris and falls for a cowboy?"
Justin Swanscott's Parisian study abroad itinerary includes visiting the French Riviera, hitting up the gay clubs, and bagging a French lover. All of that evaporates the second his football-playing cowboy roommate walks in, dazzling him with his shy little smile and sweet gestures.
Wes Van de Hoek seized his dreams and made them come true. After scoring a football scholarship to one of the best universities in Texas, he's now three years into his college career and making a name for himself as one of the most promising NFL draft picks in the country. Everything would be perfect if not for the secret he's been keeping from everyone.
If you love football and epic love stories, you'll love Tal Bauer's brilliant masterpiece. Captivating, beautiful, and emotional, The Jock is a stunning MM sports romance that needs to be added to your bookshelf. Bauer undoubtedly scored a touchdown with this one.
Budding soccer star Sal is thrilled when she hears about their new coach: Reiner Kulti. As her long-time childhood crush and idol, she can think of nothing better than being coached by the elusive soccer legend. That is until she meets him and realizes he's a shadow of the passionate champion she admired growing up.
Kulti is another one of the best sports romance books out there. If you love enemies-to-lovers romances with an age gap, then it's time to give Kulti a go. You'll love it.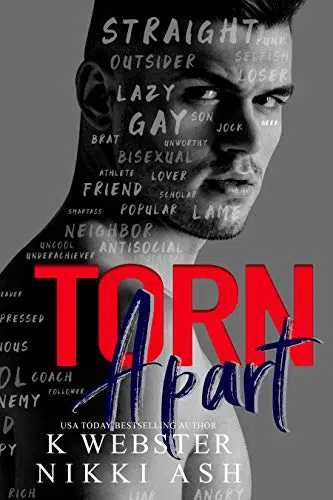 Torn Apart is the story of four people who are intertwined in an intricate web of attraction, lust and new sexual dynamics that leave them more confused than ever.
We have the dean's gay gamer son Ashton, his beautiful best friend Mia who is secretly in love with said best friend, the young hockey coach Drew who left the NHL under mysterious circumstances and the arrogant hockey star Brayden. Once their lives become entangled, they will be forced down a path of self-discovery that will leave them vulnerable and uncertain of their unconventional relationship.
Read Torn Apart if you're looking for a story that defies all expectations and refuses to be put in a box. K. Webster and Nikki Ash's masterpiece will undoubtedly go down as one of the best contemporary reverse harem books ever written.
Two strangers on the brink of making their mark on the world meet in a bar and spend the night bonding over basketball and feeling an inexplicable connection. All August West wants to do is learn more about the unforgettable girl from the bar, but nothing can ever come out of those few memorable hours they spent together. Not while Iris DuPree is in a relationship with his archenemy Calab Bradley.
Nicknamed the "golden boy" of the NBA, Caleb plays the perfectly doting boyfriend to a tee. But all that glitters is not gold and Caleb's mask fades behind closed doors. Over the years, the two reminisce about that beautiful night they spent together during their darkest moments. And even though it may be a long shot, fate is on their side.
Heartbreaking, touching and emotional, Long Shot is a slam dunk in the sports romance universe. It will yank at your heartstrings while simultaneously filling you with hope for Iris and August.
When the female basketball program is cut at her private school, seventeen-year-old Quintessa Marie Dale transfers to the public school to play for the men's team. Daughter of a famous basketball player, Tessa refuses to let anyone get in the way of her dream, especially not the Ballers.
As the best high school basketball team in the state, The Ballers rule the school and they're not happy to see Tessa trying out for their team. Ryan Linc, Lake O'Brien, Alec Christopoulos, Hayes Irving and Sloan Ivy have a plan and that plan involves derailing Tessa's plan to make the team.
Read Game On if you're on the market for one of the best reverse harem sports romances books, featuring the bully romance trope and a heroine who refuses to bow down to the kings of basketball.
Jamie Canning has never been able to figure out why his closest friend ghosted him the summer before college. Now, four years later, Jamie is ready for that explanation when he learns they'll be residing in the same city in preparation for their upcoming face-off in the national college hockey championship.
Ryan Wesley has always regretted the way he ended things with his best friend of six years. After taking a bet too far, he took the easy way out rather than deal with the repercussions of his drunken antics. Now four years later, Ryan is ready to apologize. Except the second he locks eyes with his Jamie, all his feelings for his straight best friend come rushing back.
As one of the best m/m friends-to-lovers sports romance books ever written, I recommend adding Sarina Bowen and Elle Kennedy's stellar romance to your bookshelf. Him is a second chance hockey sports romance between two friends that will keep you up well past your bedtime and desperate for more.
All it takes is one decision to irrevocably change the future.
Four years ago, Daria Followhill took fate into her own hands when she single handedly destroyed a fellow dancer's chance at achieving her dreams and, in doing so, destroyed a relationship with the guy who wanted all her firsts. Now, he's back. Except, this time, he's her foster brother.
Penn Scully adored Daria until he didn't. When she shattered the only good thing in his life, everything changed. He still wants her, but not in the same way. This time, the roles are switched and he'll become the guy who destroys her.
Read Pretty Reckless if you're looking for high school enemies to lovers romance books with misunderstood characters who toe the line between love and hate.
Lance Romero knows nothing good ever comes out of seeing his toxic on-again, off-again fling Tash. After a particularly upsetting encounter, Lance's night ends in a brawl that earns him a one-way ticket to the ER followed by an ultimatum that ensures he sees a masseur if he wants to stay off the bench come his next game.
It's just another day at the clinic for Poppy O'Connor when the notorious hockey star Lance "Romance" Romero walks through the doors. To say she is caught off guard by the arrival of the guy she once knew back in grade school would be the understatement of the century. Except he doesn't recognize her. And she plans to keep it that way.
Heartbreaking, stunning, and unforgettable, Pucked Off is a mesmerizing read that will leave you enamored with Lance and Poppy's captivating romance. It is, hands down, one of the best sports romances from Helena Hunting.
College coach Will Langstrom has no time for distractions. Between a struggling cross-country team, a mountain of debt, and a failing farm, the last thing he needs is more trouble. And that's what his newest runner will be, an epic distraction.
Olivia Finnegan had a promising running career before it all fell apart when she took a bat to her former teammate. Stripped of her status as a D1 athlete, Olivia is transferred to a new school and placed in a lower bracket. The only perk of the entire arrangement is that she gets to train under the legendary coach Peter McEwan. Or so she thinks. Olivia's excitement quickly deflates when she learns that she will be working with the cocky asshole who has it out for her. But when her night terrors trigger memories from her past, Will will become the least of her problems. In fact, he may just be her salvation.
Read Waking Olivia if you are in the mood for a taboo sports romance that will tug at your heartstrings. Even better, it is slow-burn, so the sexual tension is off the charts by the time the two get together.
Charlie never expected to return to the training camp she worked at as a teen, but after being fired and dumped, the camp might just be a welcome distraction to the utter fiasco her life has become. As fate would have it, the camp turns out to be the perfect distraction with the arrival of Reese Forster, the popular starting point for the Seattle Thunder. Falling for the golden boy of the NBA was never part of the plans, but when an unforgettable encounter puts her on Reese's radar, not even fate could stop what happens next.
For an unputdownable sports romance that will keep you up way past your bedtime, I recommend reading Teardrop Shot. If you're into basketball, you'll enjoy this fun sports romance.
Ever since she was a young girl, Blake has lived and breathed football, hoping to one day break through the glass ceiling in the NFL. No one ever said it would be easy and Blake understands that firsthand after being repeatedly passed up in place of men with less experience. It isn't until a chance meeting with the wide receiver on the Boston Rebels that she gets her big break. Working as a consulting coach is the perfect opportunity to showcase her talent and she's ready to prove herself as a game-changer in the world of sports. What she never foresaw were the three offensive players that would make the ultimate play for her heart.
Too bad she's their coach…
Read The Reverse Play if you're in the mood for one of the best slow-burn sports reverse harem romance books.
After losing out on her dream job as a professional photographer at the best outdoor lifestyle magazine in the country, Brooke Larson is coaxed into taking an impromptu trip to Laax for a relaxing week with her bestie. If she's lucky, she may even get a killer shot of one of the elite athletes riding the slopes that'll earn her first place in the coveted Illuminations contest. Brooke's prayers are answered when she comes face-to-face with the legendary pro snowboarder Chase Austin. Too bad he only wants to get into her pants.
Exhilarating, romantic and breathtaking, Ride is an unputdownable must-read from Harper Dallas. If you love slow-burn sports romances centered around extreme sports, this will be a winner. You'll be sucked into Brooke and Chase's story in no time.
All-star NFL quarterback Finn Mannus can't afford any distractions and until the season is over, dating is off the table. But when the photographer hired for the team's annual calendar photoshoot doesn't instantly fall at his feet like so many others, he's intrigued. And despite their rocky start, the two become fast friends. Opposites in every way, Finn has no plans to fall for the sassy spitfire. That is until fate intervenes.
On the hunt for the best sports romance books on the market? The Hot Shot may be the next sports romance to score a place on your favorites list.
Noel Gamble is the popular and talented star quarterback for a college football team and from the outside, he seemingly has it all: looks, girls, and a future championship… except that is far from the truth. If you asked students their opinion on Dr. Aspen Kavanagh, they would probably say she's a cold-hearted bitch… except it's all a charade. When Aspen and Noel's lives collide, they could have never anticipated how much they would fall for each other, but with so much on the line, is it all worth it?
Do you love your sports romances drowning in sexual tension? If you answered yes, To Professor, With Love is the next taboo sports romance you should add to your growing list of books to read.
In a world of deadbeat parents and conditional love, young teens Eliza and Till find refuge in one another. And to escape their bleak realities, they turn a dilapidated apartment into their makeshift home. But when life tears them apart, the two go on to forge their own paths, separately. That is until fate brings them back together. Now Till needs Eliza more than ever because he's about to endure the toughest battle of his life.
Heartbreaking, emotional and beautiful, Fighting Silence is an outstanding tale of two friends who fall in love and endure countless hardships along the way. By the end, Aly Martinez's words will leave you wrecked and ruined. And I mean ruined. You won't be able to think about this book without feeling weepy.
When Hannah Wells finally finds someone who turns her on, she is eager to make a move. But there is one thing holding Hannah back: her lack of confidence in the sexual intimacy department. In her quest to break out of her comfort zone, Hannah agrees to tutor the arrogant captain of the hockey team. In exchange, Garrett agrees to help her overcome the dilemma. No one was supposed to catch feelings, but after an explosive night, Garrett is determined to convince Hannah that he's the one for her.
For a sports-themed, enemies-to-lovers romance that will keep you gripped from start to finish, The Deal is one of the best slow burn sports romance books for you. You'll be hooked from the moment Hannah makes the deal with the college bad boy.
Ever since the sixth grade, Dusty's loathed the town's golden boy with a blistering hatred. While she became the invisible loner, he transformed into the local football god who left Dusty behind when she needed him most. And her resentment towards the NFL-bound star has only grown over the past eight years.
Determined to follow her dreams of becoming a marine biologist, Dusty transfers to one of the best college programs which just so happens to be in the same city where Stone Reeves plays.
Dusty Phillips and Stone Reeves will take you on an emotional rollercoaster filled with angst, friendship, love and forgiveness. Fair warning, you're bound to get whiplash.
The last thing bigshot tight-end Gray Grayson wants to do is cram his six foot six frame into his agent's daughter's bubblegum-pink Fiat 500, but he needs a set of wheels to get him to and from practice and she's studying abroad. That's exactly what he tells Ivy Mackenzie after she sends him a particularly cross text outlining the consequences if any shenanigans should take place in her cherished ride. In no time at all, the two become fast friends. Everything changes the day Ivy returns home. All Gray wants is to be with Ivy, but Ivy lives by two rules: never sleep with friends and never, under any circumstance, fall into bed with one of her father's clients.
On the hunt for the best sports romance books? The Friend Zone is hands down one of those gems. And if you love the friends-to-lovers trope and cute banter, Kristen Callihan's romance will certainly be a touchdown in your book.
All Rossi wants is a baby. With no potential daddies on the horizon, Rossi decides on an anonymous donor. But when the fertility clinic accidentally sends her a letter intended for the donor, Rossi learns that the father of her daughter is the legendary tennis champion player Fabian Catalano. When Fabian discovers the clinic's error and learns of his daughter's existence, he gives Rossi the shock of a lifetime when he requests to be in his daughter's life. But will the world renowned tennis player trade in his mansion in Malibu for cartoons and baby bottles?
On the market for a cute sports romance? If so, read The Match, a sweet tale following a single mom, a famous tennis champion and an adorable baby who brings her parents together.
After three months of radio silence from her former fling, Charisma Rossi is ready to break the silence in a blaze of glory. Except it doesn't go quite as planned. The moment Charm's brown eyes tangle with Blaze's icy blues, she's transported back to the night he dumped and discarded her like yesterday's trash.
Determined to leave the notorious (football) player in the past where he belongs, Charisma makes it her mission to ignore his existence. But that proves futile when he keeps turning up wherever she goes. And with each encounter, he chips away at her carefully constructed walls. Letting Charm go was the biggest fumble of Blaze's life. All he has to do is convince her that she's the one.
Ilsa Madden-Mills weaves a tale of love, acceptance and self-discovery in this captivating enemies-to-lovers sports romance. If you're a fan of second chance romances, you need to get your hands on I Hate You.
Armed with a single suitcase, limited funds and a bucketload of determination, 21-year-old Thora James jets off to Sin City with dreams of landing a coveted spot in the sexy new acrobatic show Amour. Everything changes the night she meets the charismatic and devilishly handsome leading performer for Amour. When Thora unwittingly walks into 26-year-old Nikolai Kotova's aftershow, she finds herself swept into a challenge that ends with a wayward piercing. One soul-crushing rejection later, Thora is swept into Nikolai's vortex once again when he makes an offer she can't refuse. But when they reach the end of their chapter, Thora will be forced to make a choice: Nikolai or the circus?
If you're hungry for a unique sports-themed romance, Amour Amour needs to be added to your reading list pronto. Fans of Cirque du Soleil will love Krista and Becca Ritchie's thrilling athletic romance featuring a mesmerizing performance from the charming Nikolai and the tenacious Thora.
best sports romance books