*This post may contain affiliate links, which means I may receive a small commission, at no cost to you, if you make a purchase through a link. See my full disclosure.
If you want to set foot into a fantasy world with a unique magic system, mystical creature and a dash of love, then you'll love these fantasy romance books. Fantasy is one of my favorite genres and when there is a cute couple thrown into the mix, I am all in. For some of the best fantasy romance novel recommendations, read on and if you have any favorites, let me know in the comments. I'd love to hear about them!
Jude was seven-years-old when her parents were murdered and she and her two sisters were whisked away by the murderer to live in Faerie. Ten years pass and all Jude wants is to fit in despite her own mortality. Swept into a deadly game of politics, Jude must stay on top of her game when things take a turn for the worst. With lives on the line and cunning faeries, Jude will have to stay one step ahead to come out victorious.
Prince Cardan is the youngest son of the High King: Cunning, charming, cruel and wicked, Cardan has a real mean streak when it comes to Jude. But the tides are changing. All it takes is one slipup to shift the balance.
The Cruel Prince is perfect for everyone out there who loves their fantasy romance novels centered around cutthroat fae, scheming royals and a slow burn romance (of epic proportions).
Feyre is on the hunt when she comes into contact with a competing predator. With little thought, she kills the wolf which ends with her being dragged to a magical kingdom where she is to be put on trial for her crime. Her captor, however, piques her attention as he never travels without his jeweled mask in place. The question is, what is he hiding?
For a fun and exciting Beauty and the Beast retelling, you should check out A Court of Thorns and Roses. You will never guess how much the plot will twist once you get to the sequel in this epic romantic fantasy series. It's the best.
Cinder is a gifted mechanic who is belittled and overlooked by her step-mother and one of her step-sisters. The other step-sister looks up to Cinder. As a cyborg, Cinder does not have the same rights as humans. During a chance encounter, Cinder becomes irreversibly changed when her life becomes intertwined with Prince Kai's. Thrust into center-stage, Cinder must navigate new and rocky terrain. With the fate of the world on their shoulders, Cinder and Kai will have to race against the clock before time runs out.
If you like your fantasy romance novels with a dash of sci-fi, Cinder is the perfect option for you.
Laia's life is turned upside down when her brother is arrested and likely tortured by masked soldiers commonly referred to as the Masks. To save her brother, Laia seeks help from the resistance, but they demand something in return. As payment for their aid, Laia must enter Blackcliff Military Academy as a slave in order to spy on the Commandant who is in charge. While there, she meets the son of the Commandant, Elias, who wants nothing more than to escape his tyrannical mother and his rigid life as a Mask.
An Ember in the Ashes is perfect for anyone who loves slow burn romances, badass heroines and dystopian worlds. This is the fantasy romance novel for you!
Sky In The Deep is about two Viking clans, the Aska and the Riki, who have been enemies since the dawn of times. They have these yearly fights usually before and after the thaw and it wasn't until their most recent fight that Eelyn, an Aska warrior, sees her brother.
A brother who she believed was dead all this time. Fighting. One the wrong side of the battlefield.
She goes after him (probably thinks she's going a little insane), but in the process ends up a prisoner of the Riki. It is there where most of the story will take place and where you'll grow to love all the characters.
It isn't until close to the end that the Hejra become a major problem for both the Aska and the Riki. And a new age begins.
If you prefer your fantasy romance novels with a strong female heroine, some enemies to lovers schmoozing and VIKINGS… well, this is definitely the book for you.
Former street thief and a current member of Queen Lia of Venda's Rahtan, an elite squad of her most trusted soldiers, Kazi is given a mission to locate General Illarium, who is responsible for the deaths of Lia's father and brother. Rumors of the general's whereabouts leads her to Hell's Mouth, a city unofficially under the control of the Ballenger family.
When Jace, the new Patrei of the Ballenger family, finds himself abducted and shackled to Kazi by labour traders, they must trust each other in order to escape and survive the elements. Jace eventually brings Kazi back as a prisoner which is fine by Kazi since it gives her time to complete her mission. But with others scheming behind the curtains, Kazi and the Ballengers will never see what's coming.
I recommend reading Dance of Thieves if you like your fantasy romance novels centered around kickass characters who can handle their own in a fight… and, of course, the enemies to lovers trope. You can never go wrong with that one.
Alina and Mal become as thick as thieves during their time together in an orphanage. Together they are chosen to serve in the First Army, a squad whose main mission is to team up with the Grisha to eradicate the Fold; a place devoid of light and life except for the Volcra. Volcra were once human, but became something else entirely after staying in the Fold for too long. Now, they are flesh-eating creatures with leathery wings. Razor-sharp teeth and long, dirty claws.
When Mal and Alina's unit returns from the Fold, they are attacked and greatly outnumbered. When Mal is ambushed by a Volcra, Alina acts on autopilot and becomes a human shield as the Volcra shoots towards them. What happens next calls her very nature into question.
I highly recommend Shadow and Bone to anyone who loves their fantasy romance novels with some devilish and conniving villains, amazing world-building and kickass characters.
The shadowhunters are back in Cassandra Clare's exciting, new spinoff Chain of Gold. James and Lucie Herondale (can we get a Woo! Woo! for Jace . . . just because) have only known peace in the Shadowhunter community. Their idyllic view is shattered with the arrival of the Blackthorn and Carstairs families along with a plague that only promises the inevitable; death. The story focuses on James Herondale and Grace Blackthorn, so take a seat and get comfy because you're going to have 544 pages of beautiful words to devour and fall in love with (and later hate when you realize you have to wait a year for the sequel).
If you're into fantasy romance novels with creatures from all walks of life, literally, then you'll love Chain of Gold. Also, get ready for some unrequited love. It will drive you bonkers I tell you. Bonkers!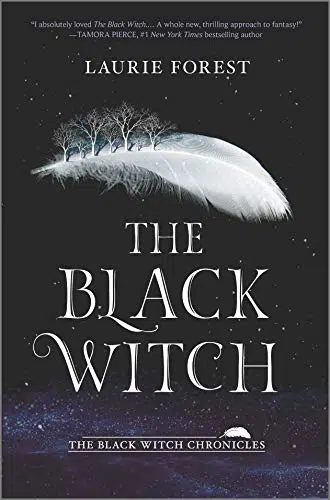 Swept away from her sheltered life in the countryside town of Halfix with her uncle, Elloren Gardner is swiftly thrust into a shiny, new world of pretty veiled threats, treacherous political landmines, lofty expectations and preconceived beliefs that prove more debilitating than bullets. As the granddaughter of the Black Witch, Elloren's lack of magic is a great source of disappointment in her aunt's eyes.
Only when she begins attending Verpax University does she begin to question everything: her beliefs, the laws of the land, the history of her people and her burgeoning feelings for the enigmatic son of the commander and the mysterious Kelt who hates her on sight. Nothing is what it seems and the world, crumbling beneath the Gardnerian's rule, is on the precipice of change.
If you like enemies-to-lovers fantasy romance books that are light on the romance and heavy on everything else, I would suggest The Black Witch, especially if you enjoy flawed characters with wonderful character arcs.  
Prince Rhen is cursed by an enchantress to repeat the autumn of his eighteenth birthday. To break the curse, he must fall in love. Rhen thought that would be easy enough until he turned into a vicious monster that feeds on death and destruction. Until he murders his entire family and hundreds of his subjects.
Harper has never had the easiest upbringing. From an absentee father who left his family to deal with his mistakes, a mother who only has weeks left to live and a brother who underestimates her because of her cerebral palsy. When she sees what appears to be a kidnapping in action, Harper steps in and whacks the would-be kidnapper in the head…and ends up in Emberfall.
From there, she is thrust into this alternate world that is so much different than Washington, D.C. While there, she pulls off multiple escape attempts and gives Rhen and his commander Grey a run for their money. However, Harper may have just become their biggest ally in their fight against an invading army and a political uprising.
If you're into Beauty and the Beast fairy tale retellings featuring a kickass heroine and an enemies to lovers trope, A Curse So Dark and Lonely is right up your alley. You'll fall in love with this fantasy romance novel for sure!
RELATED: Review of A Curse So Dark and Lonely
Growing up in one of Austermeer's Great Libraries has taught Elisabeth three things: (1) all sorcerers are evil, (2) the magical grimoires must be kept secure at all times and (3) that she wants to become a warden one day. That all changes when one of the most dangerous grimoires escapes one night and Elisabeth tries to intervene.
Suspicions arise when Elisabeth comes forth with the information and ends with her incriminated and in shackles. Sent off to the capital to answer for her "crimes," Elisabeth must rely on the sorcerer Nathaniel Thorn and his demonic servant as her world implodes.
Fantasy romance novels about sorcerers and demons are awesome which is why you should definitely give Sorcery of Thorns a chance.
The Wrath and the Dawn tells the story of eighteen-year-old caliph, Khalid, who takes a new bride each night only to have a silk cord wrapped around their neck each morning and a commoner, Shahrzad, who is intent on ending after her best friend falls victim to Khalid.
For an enemies to lovers romance mixed with a pinch of magic and a deadly vendetta, give The Wrath and the Dawn a chance. This fantasy romance novel will not let you down.
Louise le Blanc escapes to the city of Cesarine where she blends in as a common thief, hiding the fact that she's a witch. If the wrong person finds out, she may find herself burned at the stake as witches are feared and hunted by the masses.
As a Chasseur (huntsman) for the Church, Reid Diggory is bound to one duty: kill all witches. However, he finds himself in a precarious predicament when Lou pulls a sly stunt that ultimately ends with the two becoming husband and wife.
Serpent & Dove is a masterpiece. Every word. Every character. Every freaking bit of world-building. Absolutely brilliant. Shelby Mahurin's debut definitely has me excited for her future works and I especially cannot wait for Blood & Honey, the sequel to Serpent & Dove.
If you're into magic, witches, and an enemies-to-lovers romance + a fake engagement, then Serpent & Dove is one of the best fantasy romance novels for you. It literally has everything!
If you love characters with sneaky thieving skills, you'll enjoy Kaz Brekker and his motley crew. Kaz is offered the chance to pull off a dangerous heist with a crew of his choice and he may be able to do it. That is, if they don't kill each other first.
Read Six of Crows if you like your fantasy romance novels slow burn with some top notch character development. I mean it when I say these characters are a-freaking-mazing! I could not get enough of them.
A curse was unleashed on the people of Saylok the day Bayr was born. From that moment forth, no female child would be born. As the years progressed, desperation grew until the first girl child was born, Alba. Believed to be a sign of salvation, the people of Saylok were optimistic until the curse continued. As the strongest person in the kingdom, Bayr is charged with protecting Alba and he quickly learns that he would do anything for her.
We all know Amy Harmon kills it in the fantasy romance novel category, so you should give The First Girl Child a go!
Sable, the daughter of Fate, is a witch and a pariah among the witches in her sector. During an equinox celebration, a man asks her to read his fortune with a wishbone. One snap is all it takes for Sable to realize his life is in peril when blood escapes from the wishbone.
The next day, Sable receives a royal invitation to join a competition that ends with one of the contestant's engaged to the prince. With nothing holding her back, Sable accepts and decides it's up to her to keep the prince safe. The question is, will she succeed?
Check out When Wishes Bleed if you like your fantasy romance novels witchy and forbidden. Bonus points if you love all things royal because we have a prince on our hands.
Alessandra has a clear set of goals which are as follows: (1) Woo the Shadow King, (2) Marry him and (3) Kill him and take his kingdom for herself. The third part of the plan goes awry when she saves him from numerous assassination attempts . . . after all, how else will she become queen if there is no king to make her his queen? Dance with the shadows in Tricia Levenseller's latest novel The Shadows Between Us.
If you like your fantasy romance novels dark with a slow burn romance, then you should definitely read The Shadows Between Us.
An unrequited love. An arranged marriage. And an unforeseen betrayal.
Brexley Kovacs has nothing to lose. Not after learning of her future nuptials to the abusive she would soon be tied to the abusive son of the prime minister. As a last hurrah, Brex finagles her best friend Caden into an adventure that would end with her imprisoned in the infamous Halalház – the House of Death. In the place feared by seasoned soldiers and civilians alike, Brex must fight to survive the Hell that will become her life.
If you love slow-burn fantasy romance books with heroines that can take down battle-seasoned warriors with the flick of her wrist (well, maybe not the flick of her wrist), check out Savage Lands.
Re-enter the world of the Shadowhunters with childhood friends Emma Carstairs and Julian Blackthorn. With demonic activity on the rise, Emma and Julian must figure out what's behind the sacrificial killings, necromancy and highly active ley lines before it's too late. However, Emma and Julian have one big problem. As parabatai, they share a special bond, but parabatai are forbidden from falling in love…
Read Lady Midnight if you like your fantasy romance novels with a dose of forbidden love and friends to lovers.
For some of the best fantasy romance novels, check out these great recommendations and if you have any of your own fantasy romance book suggestions, definitely let me know what they are in the comments! fantasy romance books fantasy romance books fantasy romance books fantasy romance books fantasy romance books