*This post may contain affiliate links, which means I may receive a small commission, at no cost to you, if you make a purchase through a link. See my full disclosure.
One girl, multiple guys and a relationship that will leave you wondering "how?" Yes, that was one of the common thoughts that went through my mind when I first began reading reverseharem. The entire idea of being with multiple people at once seemed odd…until I read a few stories. I have officially jumped onto the bandwagon.

Over the past couple of months, I have read a number of reverse harems. Some put me through the wringer, others had me floating on Cloud 9 and some were downright dreadful. I picked some of the best reverse harem books that I have read and crafted a great list of recommendations. Of course, there are a few (maybe two) on here that I was not a huge fan of, but they received awesome ratings. In other words, you might like them, so I thought it would be a good idea to still add them to the list. Enjoy!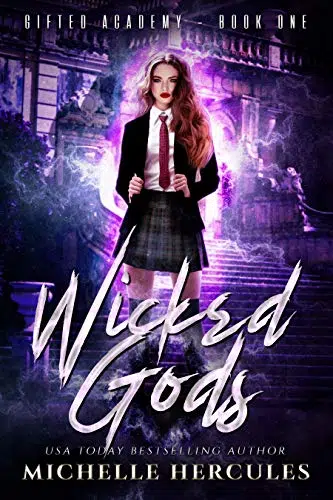 There are two sides: Idols and Norms. For many years, those with supernatural abilities, the Idols, have been the dominant group. However, the scales are tipping and anything can happen in the gameboard of the Gods.

Daisy is a Norm who has been dealt a bad hand in life and when she is offered the chance to attend the prestigious Gifted Academy, she takes it. Her plan to keep a low profile is ruined when she catches the eyes of the four most powerful guys at the academy: Bryce, Rufio, Morpheus, and Phoenix.

I cannot express how much I enjoyed Wicked Gods. The plotline is unique compared to other books in the reverse-harem genre which made Daisy's story refreshing and intriguing. I honestly could not put it down. Also, if you like your heroine with a backbone, you got yourself a winner with this one. Daisy is not the type to take shit from anyone which is essential as there are more bullies than friends at the Gifted Academy.

Read Wicked Gods if you like the reverse-harem/bully academy trope.
Book Order: Wicked Gods, Ruthless Idols, Hateful Heroes (pre-order)
Hazel's entire life went up in flames when a fire took the lives of her parents and best friend. Barely getting by, she is given a second chance when she is offered a scholarship to an elite academy. Her plan is to coast by, get good grades, graduate and get the hell out of there. Hazel does not count on Ayaz, Trey, and Quinn: the three guys who practically run the school and who also want her gone. However, what they don't realize is that it will take more than a few insults and pranks to run Hazel out of town.

I cannot recommend Shunned enough! Steffanie Holmes created a world of mystery and intrigue that had me grasping at straws and thoroughly shocked when I realized what was really going on (the plot twist is crazy). Also, Hazel has a backbone of steel which means Trey, Ayaz, and Quinn better watch out because things will not be going their way.

Read Shunned if you like the dark paranormal reverse-harem bully romance trope.
Book Order: Shunned, Initiated, Possessed (pre-order)
Charlotte Carson is forced to move to Connecticut when her father receives a position as headmaster of Adamson All-Boys Academy. The board plans to modernize the academy by allowing girls in and they want to use Charlotte as the guinea pig. However, who wants to be the only girl at an all-boys school? Well, I guess some people would like that, but Charlotte would prefer not to be the only girl. We can all guess what that means.

Enter, Charlie "Chuck" Carson (aka Charlotte). Chuck is the new guy at Adamson All-Boys Academy and quickly becomes a social pariah. The question is, how quickly will it be before someone realizes Chuck is actually Charlotte? Well, not too long. In fact, there's a killer on the loose and he (or she) is not happy about a girl enrolled at Adamson All-Boys Academy. Plus, add in some suspicious members of the student council–Church, Ranger, Spencer, Micah, and Tobias–and she has herself one hectic semester ahead.

The Secret Girl is another win in my book. I'm usually not a big fan of the fake identity trope, but C.M. Stunich managed to change my mind with Charlotte's alter ego, Chuck. There were some hilarious moments actually that made me laugh.
Read The Secret Girl if you like the lighthearted reverse harem/high school bully romance trope. To read my full review, go here.
Book Order: The Secret Girl, The Ruthless Boys, The Forever Crew (not yet on pre-order)
Lilith Goode's life takes a turn for the worst in the form of a text. With only five dollars and a crumpled up concert ticket to her name, she has nowhere to go. And with that in mind, she makes a split-second decision to head over to see the rock band. You can guess what happens after that.

Paxton, Ransom, Copeland, Muse, and Michael: The five members of 'Beauty in Lies' end up meeting Lilith on a chance encounter. Before they even realize what's happening, Lilith joins them on the tour and, from there, the sky's the limit.

Groupie was an interesting read. There were definitely some depressing moments weaved into the story, but they added to the development of the characters and made certain things more believable. Also, I was not ready for those first few chapters. I was not ready. It went from zero to a hundred in a matter of minutes.

Read Groupie if you like the reverse-harem trope with MMMFMM (including some MM) which, let me say, is absolutely scorching. I was really rooting for a few relationships to form…
Book Order: Groupie, Roadie, Moxie
Lincoln, River, Dax and Chase are the Kings of Linwood Academy and Harlow–she's just the help.

When Harlow Thomas's mom is offered a position as an Executive Housekeeper in a prestigious home in Connecticut, she takes the offer. Harlow has no idea what to expect, but when she meets the son of her mom's new employer, Lincoln, she comes to her own conclusions. What Lincoln does not realize is that Harlow is not the type to bend under pressure and the Kings of Linwood better watch themselves because they're in for some serious changes.

The Help was definitely different than some of the other reverse-harem tropes. There is the bully aspect, but there is also a plot twist that really creates a tense atmosphere in the sequel. It's truly a terrible predicament.

Read The Help if you like the reverse harem high school bully romance.
Book Order: The Help, The Lie, The Risk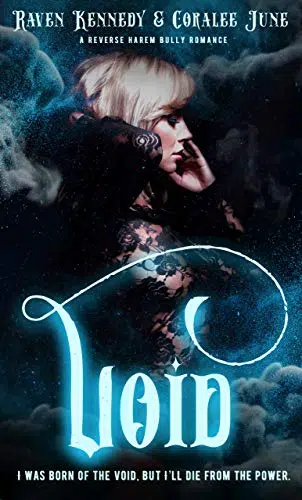 "As much as it terrified me, I refused to look weak. If he thought threatening me with a death sentence could stop the Void, he was dead wrong. I couldn't stop it. The Void was uncontrollable. It was volatile and deadly. It was part of me but separate at the same time." ~ Raven Kennedy

Devicka is a Void, a rare supernatural that absorbs other's powers at the slightest contact of skin-to-skin. With this type of ability, she grew up feared, hated and despised. Her own mother grew to hate her when Devi accidentally stripped her of her power. Sent to a non-supernatural school, she grows up amongst humans until she is called back and is asked to attend Thibault Academy, an elite supernatural academy.

The Four Paragons are the most powerful supes at the academy and they want Devi gone. Render, Hyde, Grit, and Quade grew up fearing what Devi is, so when she shows up, they plan to make her regret ever stepping foot on the grounds of Thibault.

Void earned a lot of unique points with Devi's power. I've never really read a story where a character had this particular ability, so I enjoyed learning about it and seeing it in action. Also, the bullying aspect of the story did not last for long and was much lighter compared to other books in the bully-romance trope. This is also a standalone, so if you don't have time for a full series, this is definitely a good option.

Read Void if you like the paranormal reverse harem bully romance trope.
Book Order: Void (Standalone)
Piper Hawthorne, queen-bee of Rosewood Academy, died in a tragic accident. Except…she's back now.

With help from a tech entrepreneur, her parents manage to bring her back. Well, a version of herself. She is a learning AI who is supposed to give emotional support to the people who Piper left behind. However, most students at Rosewood Academy aren't too welcoming and The Thorns, the kings of Rosewood, are willing to go to extreme lengths to break her down and send her packing.

The storyline for The Replacement is something I have read before except never with a learning AI (Artificial Intelligence). It's not heavy on the scientific aspect, but it's all very interesting as AI becomes more and more popular in today's culture. With that in mind, I really did enjoy the unique spin Christine Kelsey came up with. The one thing to keep in mind going into this is how Jude, Tyler, and Brennan really suck. They take the bullying to the extreme and Jude/Brennan can be downright cruel. Especially Jude. I read the sequel and they do (I guess) redeem themselves, but still, it doesn't take back everything they did and said. Also, as Piper is only just learning about the world, there are many times when you want to shake her and explain how it is not right what they are doing to her and how she should kick them all to the curb.

Read The Replacement if you like reverse harem/high school bully romance (although be ready to have an intense urge to slam your head against a wall).
Book Order: The Replacement, The Proxy, The Living
"My tears were gone. The encroaching darkness that descended when Ryder claimed his kiss was pushed back. I was not leaving this school. Ryder, the Knights, and the Spades had met their match." ~ Ruby Vincent
Valentina Moon is the new girl at Evergreen Academy and she plans to make this her fresh start. Everything is fine (for the most part) until she gets marked. Every single person at Evergreen turns against her and do everything they can to get her to drop out. The question is, why did they all turn against her? How did Val even get into Evergreen?

You can usually map out everything that will happen in a bully romance just by the first chapter or so. However, Marked gave me a run for my money. There were many plot twists that I kind of saw coming, but was shocked nonetheless when I realized I had been right. Trust me, I did not want to be right about one in particular. Then there were others that came out of left field.

Val is one tough heroine; she's gone through more shit than a fifteen-year-old should ever have to live through. Then there are the Knights: Ryder, Ezra, Maveric,k and Jaxon. They literally have full reign of the school and all the privileges that come with being the Knights.

Read Marked if you like reverse harem high school bully romances (the bullying gets intense so be prepared for that if you're not big on the bullying storyline).
Book Order: Marked, Broken, Bound, Unmasked
Nora has known about the dark and deadly underworld of supernaturals that haunt the streets of Detroit thanks to her psychic abilities. She has managed to remain invisible to the underworld until one night when she meets a powerful vampire who, ultimately, discovers her gifts. Then there's that pesky problem where people, especially men, are drawn to Nora (to the point of obsession and violence).

Nora has a lot on her plate as she becomes more and more intertwined with the Underworld and its inhabitants. The question is whether she'll make it out alive?

Don't Rush Me is funny. Nora literally friend–zones her harem. It's amazing. The title basically sums up Nora's thoughts and feelings. She's not ready for any kind of relationship, so don't expect much in the romance department during the first book. If you make it through this, the sequel definitely gets more into that.

Read Don't Rush Me if you like a reverse harem that is put in the friend-zone.
Book Order: Don't Rush Me, Don't Cheat Me, Don't Bait Me
Talia grew up with an absent parent, so when she finds her father dead, she has no clue where that will take her. Enter the grandparents she never knew existed. They step up to stand and have her live with them and attend a prestigious prep school.

Unfortunately, Mason, Finn, Elijah, and Cole exist. Kidding. Not really. They have a vendetta when it comes to Talia and they make it their personal mission to turn her life into a living hell. This book is very similar to Filthy Rich Boys by C.M. Stunich, but I feel like the series as a whole does differentiate itself from Filthy Rich Boys (I remember thinking this. I'm not sure why, but I know I did).
One thing that really irritated me about both of these books is the complete lack of street smarts in the heroines. How you can ever trust people who were absolutely terrible to you from the start is beyond me. Although in all honesty, I do see how it could happen with some people. But still, it really bothers me.

Read Savage Royals if you like the reverse harem high school bully romance that features a heroine that is way too trusting.
Book Order: Savage Royals, Defiant Princess, Broken Empire
Keyla is an incorporeal spirit who has been watching over four guys for the past five years or so. This would be considered incredibly creepy if it weren't for the fact that Keyla fades into nonexistence when she's away from them for too long.

The guys in question are supernaturals and when they find out that they've actually had a fifth roommate this entire time…Well, to say they're mad would be an understatement. Now, her stalking tendencies can't be helped as she literally has to stay with them in order to exist, so the fact that they are downright mean to Keyla at times is just wrong.

Four Psychos has an interesting plot the involves a ghost and four scythe-wielding reapers (I think?) who are in desperate need of an etiquette and manners class.

Read Four Psychos if you like paranormal reverse harem bully romances.
Book Order: Four Psychos, Three Trials, Two Kingdoms, One Apocalypse