*This post may contain affiliate links, which means I may receive a small commission, at no cost to you, if you make a purchase through a link. See my full disclosure.
Trying to find a gift for a book lover? Instead of trying to find them a book, which can be incredibly difficult, look for some bookish paraphernalia and gear that they're bound to love. This list of amazing gifts for book lovers will help you jumpstart your shopping journey.
Perfect Book Helpers for Book Lovers
These beautiful bookmarks will make any book look enticing with the delicate features and beautiful design. You can get the feather bookmark in gold and silver.

This unique bookmark is a fantastic gift for anyone who loves watching Dorothy follow the yellow brick road and put on those iconic ruby heels.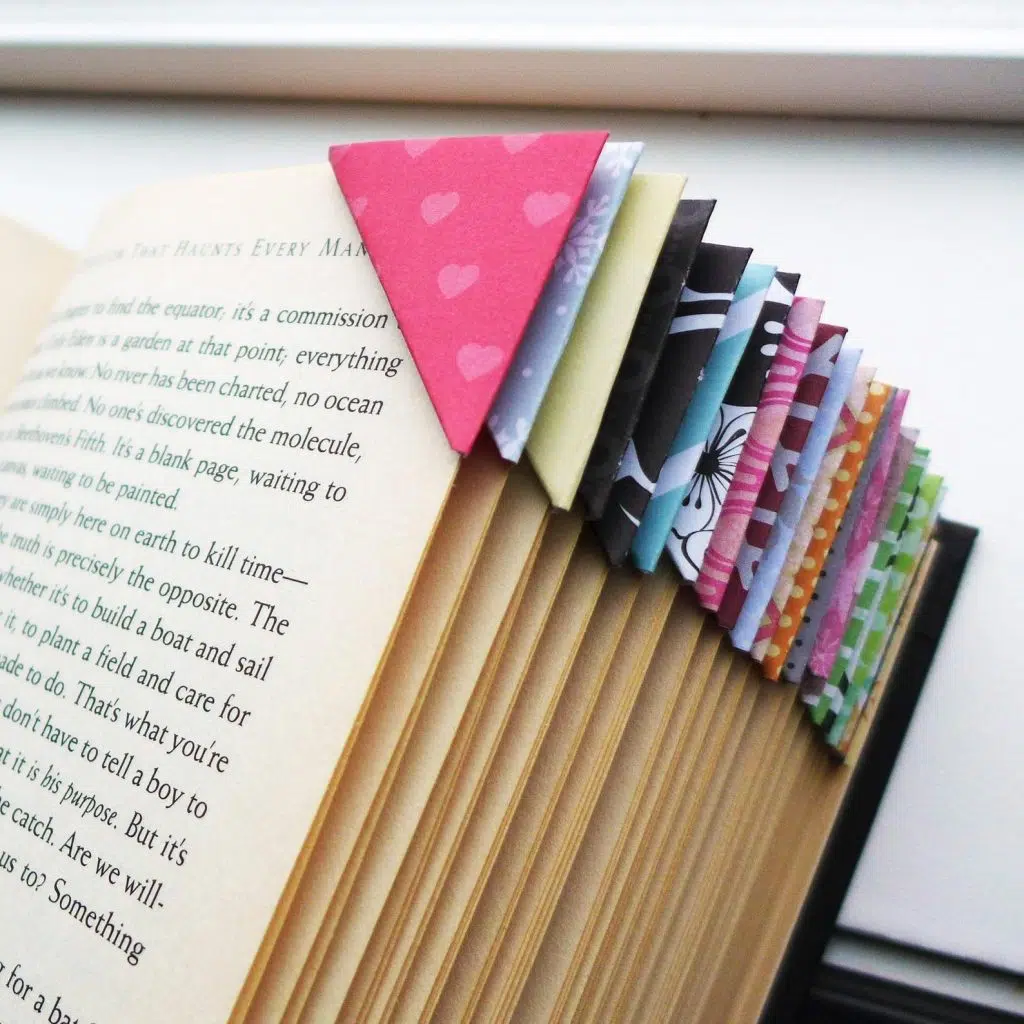 Pick out a unique corner bookmark with a cute and vibrant pattern. If you know someone who has a tendency to dog-ear their pages, they'll definitely appreciate this!
Umm, what more needs to be said? You're on an 8 hour flight and you feel like reading, but don't want to hold it up the entire time. What do you do? Whip out your handy dandy reading pillow and voila. You're golden.

Oh no, you've been staring at words for a few hours and you're ready for a nice catnap, but don't have anything to rest your head on…I think you already know where I'm going with this one.

Honestly, go for it. Whether you're getting it for yourself or a friend, you can't go wrong with this. That is, unless they hate reading, sleeping and comfy travel pillows.

Perfect Gifts for Organizing Books
This is such a cute book organizer that can give any bland/boring room some character. Put your books on display with this organizer.

This is a fashionable statement piece for all you trendy book lovers out there.

Perfect Wearable Gifts for Book Lovers
This beautiful collection from Pura Vida makes a beautiful gift for anyone who is a dreamer. Also, for anyone who is a reader. After all, a book can be described as an incredibly detailed dream (can you tell I'm out of things to say?).
This book charm pendant makes a spectacular gift for any bookworm out there. You have the option to add a custom engraving, so the book quote options are endless (unless they're more than 75 characters). This also comes in blue or gold.
My Weekend is All Booked T-Shirt
Puns never get old. Especially when you're wearing a shirt that has a stack of books on it and says 'my weekend is all booked'. . . that is the epitome of a punny pun. Raise your hand if you're sick of hearing me say pun? This would definitely make a cute gift for any bookworms out there.

Book dragons everywhere: hear me, hear me! This super cute tee is the perfect way to get into the reading spirit and let out your inner book worm dragon.
Someone should have worn this when The Mortal Instruments movie came out. The book was so much better. I'm not even sure you can recreate that book in movie format.

I'm Staying In Because: T-Shirt
This t-shirt is awesome. Not only does it give a list of valid reasons for why you're staying in, but it also has "Honestly, I'd rather stay home and read." If that's not the best reason ever, I don't know what else is.
Wrap yourself up in books with this cute scarf. For some reason, I can picture a librarian wearing this. Actually, why do I sound surprised by that. It makes sense.

Jane Austen could not have said it better: "I declare after all there is no enjoyment like reading! How much sooner one tires of any thing than of a book! — When I have a house of my own, I shall be miserable if I have not an excellent library." — Jane Austen, Pride and Prejudice
This literary quote scarf is perfect for anyone who knows their quotes.
These cute and cozy socks make an amazing gift for any book lovers who likes to keep their feet warm and toasty. 
Perfect Mugs for Book Lovers
If you know a bookworm, chances are they would love a cute little mug with a bookshelf design. A good book, some tea (or coffee) and some cozy pajamas make the perfect combo for a book lover.

This mug says it like it is. Books are literally bae. Just think of all the book boyfriends and girlfriends you have probably dreamt about. Maybe even daydreamed about (which is next level because you're actually cognizant while doing it).

This cute little mug is a phrase almost every reader has thought at least once…I mean, have you seen Khaleesi's dragons (when they were wee little things of course).

This colorful mug is the perfect addition to any book lovers mug collection. It can even double as a soup bowl for any college students out there!
Perfect Bags and Accessories for Book Lovers
I know people who go through phone cases like Simon Parker (from Wallbanger) goes through girls. This phone case can be a nice change for any bibliophile serial phone case user.

If you know any superhero/comic fans, then this pouch may be the perfect gift for them. Bonus: you can also fill it with a few things to turn it into a gift basket (in essence).
Well, the tote bag isn't lying. Just think of all the situations, scenarios, wordplay and people that booklovers have read about . . . gives them lots of ammo.
If you plan on traveling, you'll need a small, lightweight travel bag for a laptop, clothing, notebook and, of course, books.
This cute sticker is the perfect way to give a laptop, phone or notebook a stylish edge. Plus, I am currently trying to live by this advice . . . it's great until I only get five hours of sleep.

World Domination For Cats Sticker
Yes, it's true. All cats need for world domination are a few books and some catnip. Books can be dangerous . . .
Perfect Home and Decorative Gifts for Book Lovers
You can never have too many pillows. Especially ones with a cute penguin reading a book.

This is the perfect pillow for a little nook where you can just sit back, relax and bask in the sun.

Some people would say this is all they need to be happy. I partly agree. My only complaint is the absence of food. What's life without some ice cream?

Books are great and wonderful until: Read The Sentence Above.

So Many Books, So Little Time Poster
This poster tells it like it is. Any book lover can attest to the never ending list of books that are on their 'to be read' shelf.

I Like Big Books and I Cannot Lie Poster
This poster cannot be more true. If you like big books, you might as well let everyone know whenever they come over. Maybe they'll remember that the next time they're at Barnes and Noble and get you a gift card.
Vintage Books ft Jane Austen and More Shower Curtain
This shower curtain will make any book lover's home a true bookish oasis.

Go Away! I'm Reading Throw Blanket
This makes such a cute addition to any book lovers living room. It's cozy, soft and perfect for a day with a good book. Plus, it gives fair warning to anyone who interrupts…
If you know someone who is obsessed with Pride and Prejudice, you might want to buy this comforter for them.

Perfect Stationary Gifts for Book Lovers
If you know an avid reader, they will deeply appreciate these customary book labels.
I Work To Support My Reading Addiction Sketchbook
If you know someone who loves to read and sketch, this is the perfect gift for them. However, if they're someone who enjoys writing, you might want to get them the notebook with lines.