Every product on this page was carefully chosen. I may earn a commission if you make a purchase through a link. See my full disclosure.
When I first started my blog, the average number of pageviews per day ranged anywhere from 0 to 50. It can be hard when you see that after writing many pieces of content that you think people will love only to see no results. There were a few times when I was ready to throw in the towel, but then I thought about all the money I spent on the blog already and thought to myself, "No, I'm going to do this and I will do it." Confidence is key everyone.
After that, I began submersing myself in Pinterest, searching for ways to drive more traffic to my blog. I read many posts that talked about SEO and how important it is when getting ranked in Google, so I put more focus in that for awhile. Now SEO is great and all if you get ranked on the first page. It can be difficult to get ranked on the first page quickly. In fact, it can take up to 6 months for Google to begin ranking you.
Now, at that time, I was already on Pinterest. Of course, I wasn't seeing great results which was a big letdown at the time. Thinking back to it, the reason for that was partly due to my pins designs and largely because of my low reach. The thing is, I knew how powerful Pinterest could be, so there was obviously something wrong with my strategy which lead me to idea 105 (kidding); search for ways to improve my Pinterest results.
Can you guess what all the articles directed me to do? Yep, Tailwind. Although many bloggers recommended different courses like Pinfinite Growth and Pinterest Traffic Avalanche. However, those both cost money whereas Tailwind had a free trial. It was a no-brainer.
The results speak for themselves. My reach went from 100,000 to 300,000 in the span of a month. If you want to see how I did it, read on. We'll get you the traffic you deserve!
You can easily sign up for tailwind and try their free trial where your first 100 automated pins are free. After that, you can sign up for their plus plan for $10/month. I just upgraded to the plus plan for $119/year, so I can schedule unlimited posts every month.
What is Tailwind?
Tailwind is an essential marketing tool every blogger should have. Especially if you are just starting out and don't have much of an audience. Before I decided to try out Tailwind, my pins were doing subpar with only a few repins at most. The struggle was real.
This went on for a few days – maybe a week – until I decided to look up ways to increase traffic with Pinterest. Low and behold Tailwind, the tool almost everyone was mentioning in their articles. I ended up doing a lot of research before going through with it because I wanted to be certain it wasn't a scam.
Well, Tailwind passed my evaluation with flying colors. After that, I made my account and, since then, I have never looked back. However, before I get into the nitty-gritty stuff, let me explain what Tailwind is.
Now, what features exactly make Tailwind so beneficial?
Features of Tailwind
The automated scheduler is an absolute blessing for those of us who would prefer not to manually pin every day as it can be quite the hassle at times.

As you can see, you first create the draft and then add it to your queue which will be posted at an optimal time. Tailwind factors in audience engagement, traffic and virality when calculating this time for you. This will easily help to further your reach and increase engagement with that pin.

If you want to pin the same pin twice, you have the option to use the smart interval which will spread them apart. This is great for ensuring that the same pins don't appear next to each other as it can become annoying for your followers. Along with that, if you are in any group boards, this will help to comply to the rules.

The smart schedule is another feature of Tailwind that allows you to spread your posts throughout the day at ideal times based on your audience. A bonus of the smart schedule is that it's flexible and dynamic; moreover, it will change to suit your audience over time.
Also, you can schedule pins in bulk by dragging images from your desktop or simply syncing it with Dropbox. I have not tried doing this yet since I don't use dropbox, so I'm not exactly sure how it works. However, Tailwind makes everything simple and easy to do, so I'm sure it would not take long to figure out.

If you're already sold on Tailwind and want to try out the free trial, sign up here! You will be able to schedule your first 100 pins free of course and join 5 tribes.
If you're still suspicious or want some cold, hard evidence that shows Tailwind works, proceed onwards. Plus, I mentioned 5 tribes that seemingly came out of nowhere. If I was you, I would most certainly want to know what those are which is why you will learn all about them now. After all, they are the building blocks of Tailwind.

Tailwind Tribes
Similar to group boards, you can join Tailwind Tribes. However, with tribes, there are strict rules that you must follow or you'll be booted from group. For instance, if you save one pin to the tribe, you must schedule at least one from the tribe. If you're not pinning other content, then the tribe won't work as it's based off of reciprocal actions.
Plus, if you schedule someone's pin, you'll have a greater chance of them reciprocating that action by pinning something of yours. It's a win-win situation that could potentially build ties and a sense of community between tribemates. What better way than to network while growing your blog?

With the free trial, you can join 5 tribes and post 30 pins per month to them. This may not seem like a lot, but as long as you're smart about it, you should be fine. If anything, you can always upgrade to the PLUS account and buy PowerUps which will allow you to join more tribes or increase the number of pins you can add to the tribes each month. Overall, this allows you more leeway with customizing your account to fit your needs as they grow over time.

How Tribes Increased My Reach
Tribes are incredibly beneficial for those of us just starting out since they allow us more chances to reach a wider audience. I remember not having high expectations when I began using Tailwind. Then a few people reshared some of my pins and I was estatic. For me, it says that people like your pin enough to add it to their queue which also helps me understand which pins do best.
Here are two pins of mine from different tribes.

This one received around 35,000 potential impressions and so far it has generated about 100 clicks to Perhaps, Maybe Not. The overall conversion for this one has been great so far and it makes me happy to see 12 of my fellow tribemates publish it.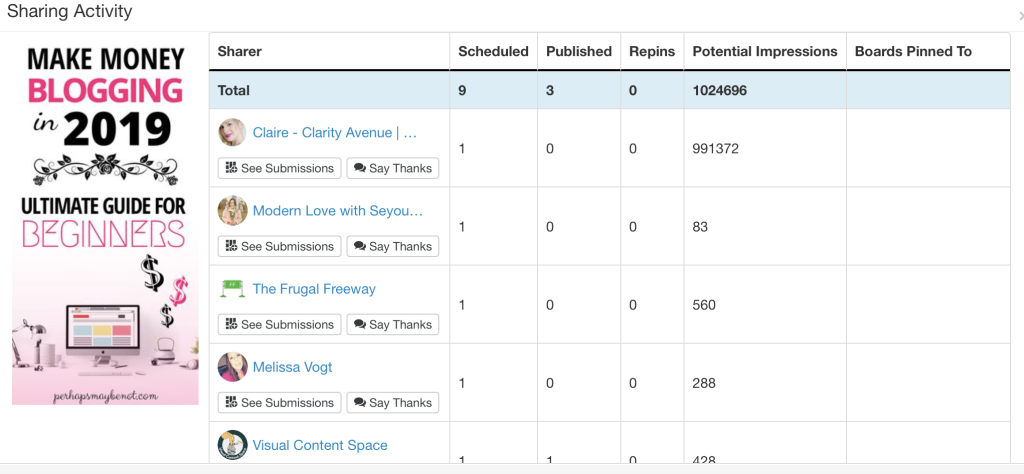 On the other hand, this pin has has a reach of 1 million! It's amazing how much you can expand on Pinterest with Tribes. You never know who may pin your content and that one person can make your pin go viral. Never underestimate the power of Tailwind Tribes. Also, sometimes you have to play around with different Tribes. Some of them will work for you and others will suck.
Now, as someone who is still in the early stages of blogging, the fact that I can increase my reach by 2 million is amazing. There's no limit on how many pins you can pin (if you upgrade to Tribes Unlimited) which means you can literally explode your traffic instantly. Okay, maybe not instantly, but much quicker than through other means. The benefits are endless. I don't regret buying it at all.

Tailwind Tribes are, in my opinion, one of the best tools out there for new bloggers or those who want to grow their audience. It's my favorite feature and I attribute a lot of my increased traffic to tribes. If I never tried it out, I would probably still be at 20 page-views/day and around a 40,000 reach on Pinterest. As you can see, from tribes alone, I have generated thousands of repins/shares which is amazing.
My Reach Two Months Later

I honestly can't believe how much my reach has exploded since joining Tailwind. For someone who doesn't have much reach yet on Pinterest, this has really helped boost my blog's traffic and increase my audience. The price may seem like a lot at first, but when you think about how much it will help you in the long-run, the price is worth it.
My Results on Pinterest
So we have looked at Tailwind, but we have yet to see how it has impacted my Pinterest account. The image below shows the average monthly viewers and those who are engaged. As you can see, the number of monthly viewers increased by nearly 1,000% (Alright, I'm not quite sure if my math skills did this justice or let me down, so feel free to tell me if it's wrong).


It went from 29,000 viewers in February and skyrocketed to 350,000 by June. Of course, there have been some dips which are annoying. However, I have resigned myself to the fact that it's normal for your reach to fluctuate over time.
As you can see, when I first signed up for Tailwind, I experienced a massive increase to my reach. It went from 100,000 to 300,000 in less than a month. However, once I reached my limit with the free plan, I could no longer really take advantage of Tailwind. That's why my reach hovered around the 300,000 mark for a few months and would take sharp dives.
Eventually, I realized that to actually start seeing results, I would have to suck it up and invest in myself. I have read that piece of advice from so many bloggers, but I thought I could have success without spending money. Well, I learned my lesson. Sometimes you just have to take the plunge and do it.
Since buying the PLUS plan, my Pinterest reach has actually increased to 350,000 monthly viewers and I attribute that mainly due to the scheduler. I have around 35 pins scheduled per day which keeps my account active and shows Pinterest I'm in it to win it.
Still, if that doesn't show the beauty of Tailwind, then I have a lot more evidence that might make you see how awesome and amazing Tailwind is.

Website Results
For a while, I could never quite reach 100 views in one day and when you're not seeing progress, you can become a bit aggravated that you're not getting any results. That changed after my first viral (kinda) pin when I had 217 views one day. I remember being so ecstatic since I thought it would take forever (if at all) for that to happen. The only reason why that happened was because of my tribemates who repinned it to their accounts.
Now, it's not organic traffic, so if your pin starts fizzling out of popularity, you will probably start seeing a dip in your traffic. This can be disheartening, but it's not the end of the world. You just need to keep pinning, using the tribes and consistently post content (which may help with getting more organic traffic since Google likes to see consistency).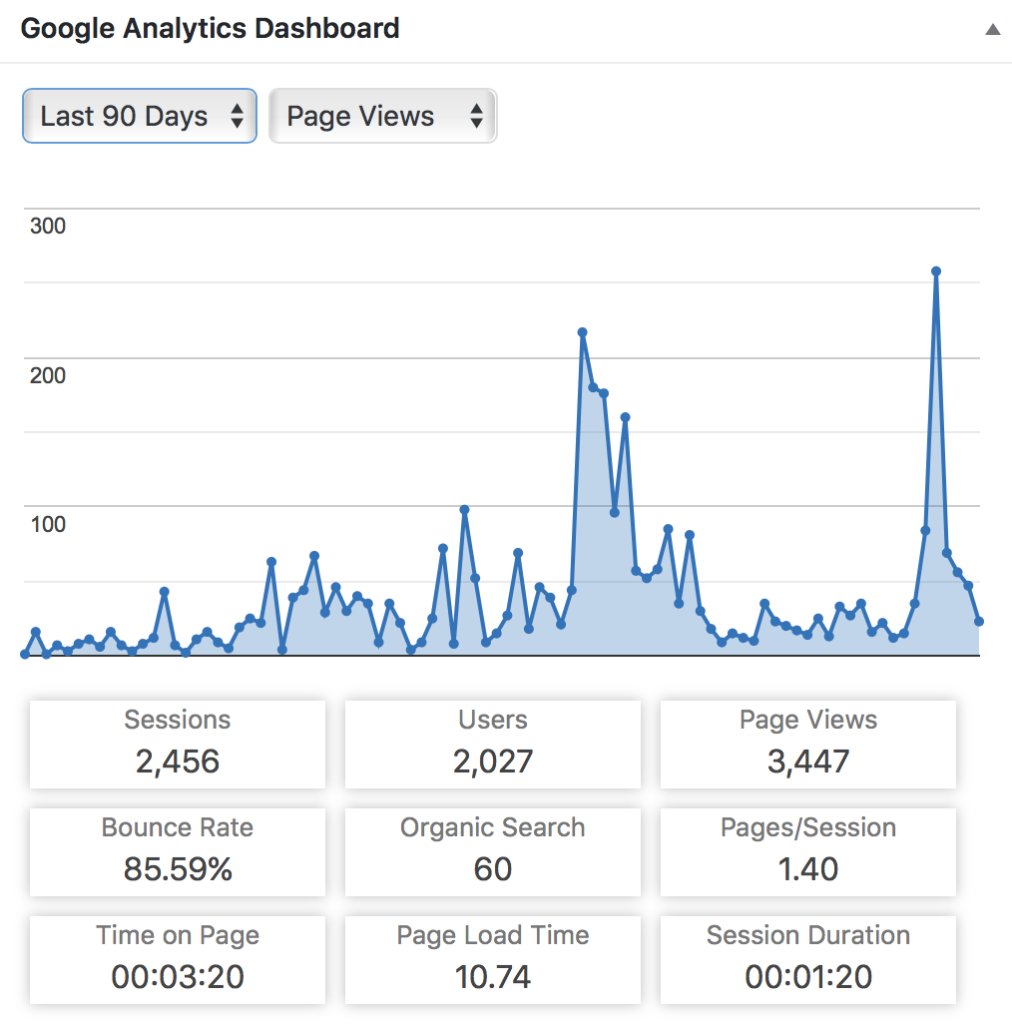 *End of the month update: July 2, 2019
Hey guys! I want to give you a quick update, so you can see my current results from Tailwind. My projected estimate for my monthly page view count had been 3,500. I'm thrilled to tell you that it was almost 1,500 views higher than that! My daily page views now range anywhere from 150-220 which is honestly all because of Tailwind and Pinterest. Without Tailwind, my pins would not reach a larger audience which would definitely impact my results.
All in all, I highly recommend Tailwind and I know that if you give it a try, you will never go back. It's the tool for all bloggers who want to grow their blog and kill it on Pinterest. Think about it, how did you find this article? I would say 95% of everyone reading this article found it via Pinterest. It's truly an amazing search engine and you need to take advantage of it.
*Mid-August 2019 Update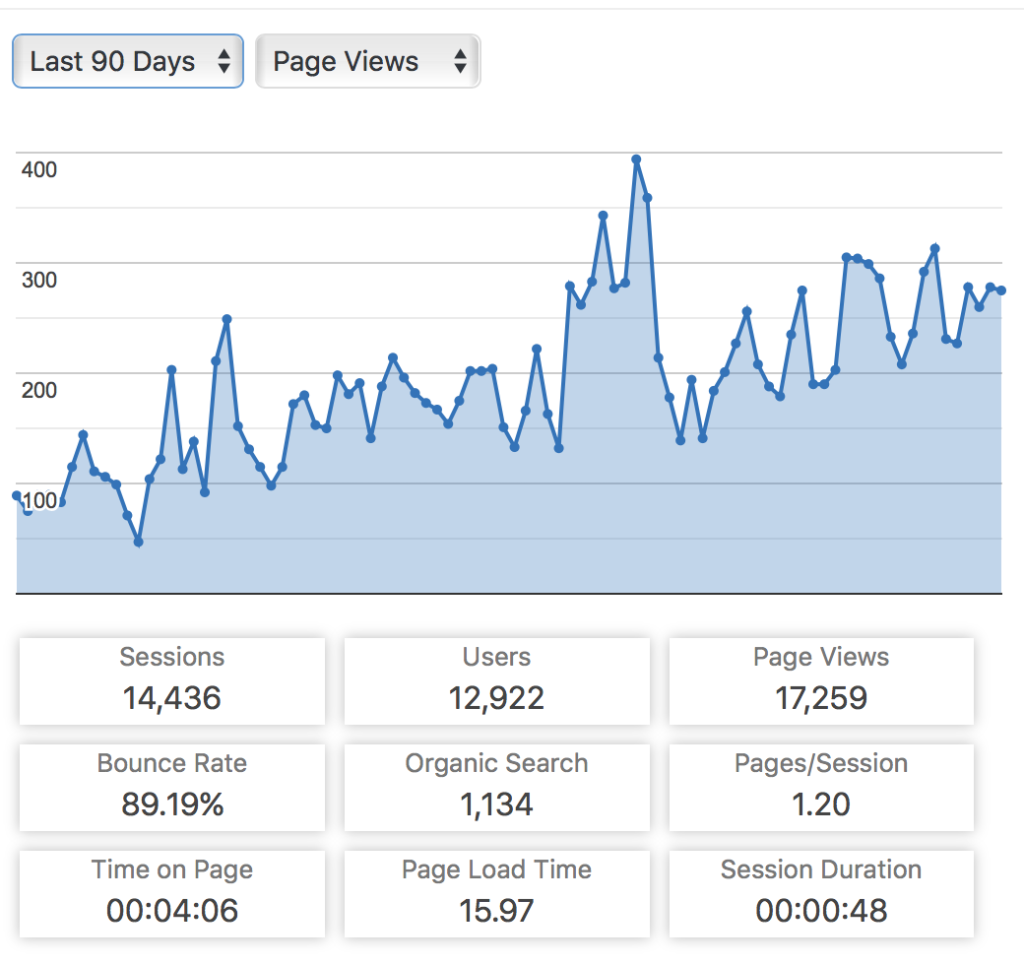 It's amazing how much my traffic increases each month. Now I usually get about 250-300 views a day which feels like a massive improvement compared to when I was not using Tailwind. Most of my audience comes from Pinterest except for the 30-40 that are organic or directly look my website up.
Who Else Uses Tailwind?
According to Tailwind, they are trusted by over 200,000 brands and agencies. For those of us who want some brand names dropped, I shall do so right now.

If you're a foodie and follow many food blogs, you may have heard of Pinch of Yum. They have 10+ million viewers on Pinterest and are out there creating some bangin' recipes! (I really wanted to include bangin' somewhere in this post and, voilà, here it is).
Another well-known site is Bustle which is an online women's magazine. By 2016, Bustle had amassed over 50 million monthly viewers and I'm sure Tailwind has helped them in some way.
Melyssa Griffin is an entrepreneur who has made it her mission to help others who want to start their own blog/website and has had much success over the years. She, too, uses Tailwind which really shows that getting Tailwind is a no-brainer.
What Should You Do?
Take your blog to the next level and explode your blog traffic when you sign up with Tailwind now! Everyone can benefit from this amazing tool and you should definitely take advantage of it. If you don't use Tailwind then it can take much longer to see any progress or results.
After the trial ends, you can no longer schedule any more pins from the tribes to your account. You can technically continue using tribes after you have posted the 100 pins as long as you are following the rules though. In other words, make sure you post about 10 or more pins from each tribe in advance, so you'll be able to continue adding pins to the tribes without breaking the 1:1 policy.
You have nothing to lose by testing out the free trial, so go ahead and give it a try 🙂
For More Helpful Blogging Tips…
How to Start A Blog: A Step-by-Step Guide
Best Marketplaces to Find Premium Wordpress Themes for Your Blog
What to Look for When Choosing A Premium Theme